Search by Keyword

Product Categories

CLASSIC RUSTIC WALL CROSS
Rough-hewn carvings and an antique finish make this cross a striking pastoral wall ornament. Polyresin. 8 3/4" x 3/4" x 15 1/4" high.
SPANISH STYLE WALL CROSS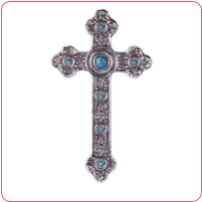 The look of silver and turquoise are brought together to impressive effect in this handsomely carved wall cross. Polyresin. 7 1/2" x 5/8" x 13" high.

Shopping Basket
Note:
All prices in US Dollars

Specials
A Surty Essential Bath Salt
Surty Essential's Frankincense and Myrrh bath salt is made with a combination of mixed salts and frankincense and myrrh essential oils fragrance.