Search by Keyword

Product Categories

CORN HUSK NESTING BASKETS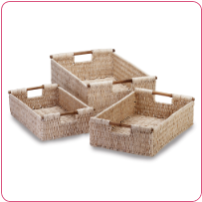 Tightly woven cornhusk baskets with lightweight bamboo handles are perfect for a variety of bath goods. Largest: 21" x 14 1/2" x 6 1/2" high.
SPA-IN-A-BASKET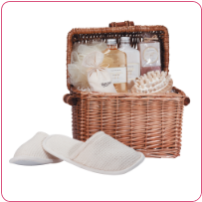 Spoil yourself! Cute wicker chest contains bath items in a relaxing "Honey Vanilla" scent, comfy slippers and a massage tool. 11 7/8" x 7 5/8" x 11 3/8" high. Set

Shopping Basket
Note:
All prices in US Dollars

Specials
A Surty Essential Bath Salt
Surty Essential's Frankincense and Myrrh bath salt is made with a combination of mixed salts and frankincense and myrrh essential oils fragrance.