Crystal Angel 12"H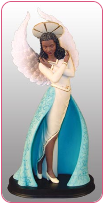 Crystal Angel 12"H
Deluxe Civil War Chess Set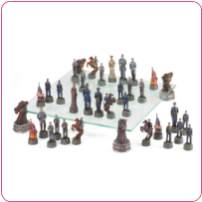 Each piece of this remarkable set is a miniature work of art, marching across a frosted-glass ";battlefield."; Lifelike horse-head corner columns hold the board aloft. A truly theatrical twist on the classic game of strategy— and an absolute ";must"; for Civil War collectors and chess fanatics alike! Comes complete with polystone pieces and etched glass board. Each playing piece is approximately 1 5/8"; diameter x 5 5/8"; high; board is 21 1/2"; diameter x 1/2"; thick; each corner column is 3 1/8"; x 4 1/2"; x 5"; high.
Desert Angel Candleholder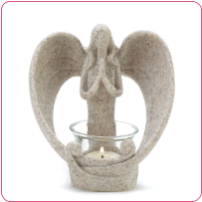 A slender seraph shields the light of faith with her bowed wings as she folds her hands in prayer. Stone-look decoration graces your home with a heartwarming dose of hope and faith! Polyresin with glass cup. Candle not included. 5 3/8"; x 3 7/8"; x 5 3/4"; high.
DESERT ANGEL FIGURINE (ETA 1/29/2012)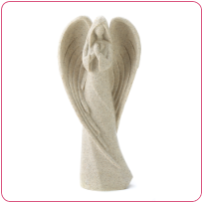 Appearing to rise from the windblown desert sand, a gentle angel folds her arms and cups her wings in reverent prayer. An earthy spiritual decoration to display with pride! Polyresin. 4 1/2" x 2 3/8" x 9 1/4" high.
Devotion Angel 11.25"H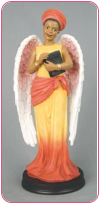 Devotion Angel 11.25"H
Divine Sentinel Solar Light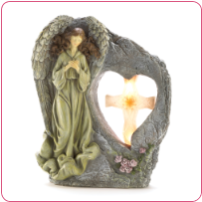 An angel stands guard beside a holy cross, inspiring reflections of heartfelt faith. Stone-look statue beautifies your outdoor space both day and night with a hidden solar light setting the cross gently aglow at evening time. Weight 2 lbs. 8 1/2 " x 3 1/4 " x 11 " high. Polyresin and solar LED light. One AA 600MAH NI-CD battery included.
Fairy Chess Set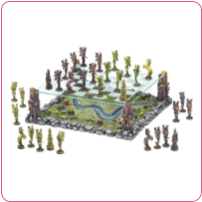 In the legendary world of Faerie, the armies of two ancient kings gather for a mythical battle. Across the fields and woods they march, matching wits and force as players in the age-old classic strategy game of chess. This stunning set is sure to be the envy of all, with a clear etched-glass board suspended above a lifelike sculpted landscape. Each playing piece is a miniature masterpiece, suitable for displaying with pride and poised at the ready should a worthy opponent arise! Polyresin with glass board. 16"; diameter x 5"; high.
Faith Heavenly Virtues Angel Figurine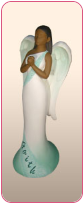 Faith Heavenly Virtues angel figurine. Gracefully showing her faith. Lovely angel with faith written across bottom hem of light-blue angelic robe. 11 3/4" H
Fern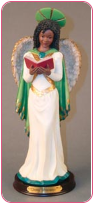 Fern
FINE FRENCH BATH SET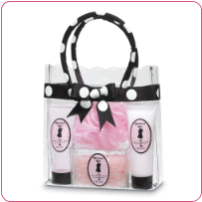 This glamorous polka-dot bag filled with exotic lotions, gels, and a variety of other bathing accoutrements is a testament to the French gift for luxury. 9" x 2" x 12 1/2" high.
Give Thanks To The Lord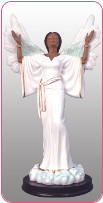 Give Thanks To The Lord 12" high
GLASS ANGEL MERRY-GO-ROUND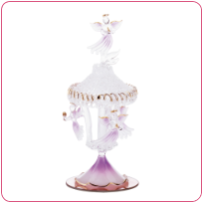 Gracefully designed rose-pink angels swing round an elegant gold trimmed spun glass carousel. 3" diameter x 7 1/4" high.
GLOWING JESUS ON THE CROSS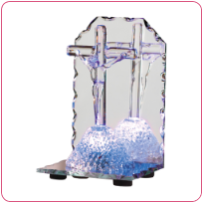 A spun glass masterpiece depicting Jesus at the moment of His ultimate sacrifice glows with a brilliant inner light. Mirror backing. LED light base. 3" x 2 3/4"x 5" high.
Golden Open Armed Angel
Golden Open Armed Angel 9" high
Golden Open Armed Angel (tall)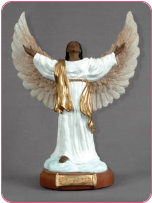 Golden Open Armed Angel (tall) 13" high
Golden Open Armed Angel LG 13"H
Golden Open Armed Angel LG 13"H
Graceful Antiqued Cabinet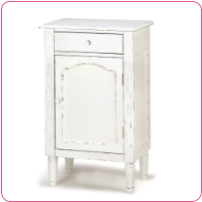 Simple lines and a creamy hand-distressed finish give this wonderful wooden cabinet the heirloom look of cherished vintage furnishings! Makes an elegant bedside nightstand; a handsome cabinet for any bath.. or use your imagination to add stylish storage most anywhere in your home! MDF wood. Some assemby required. 18"; x 12 1/2"; x 29"; high.
Heart Bouquet Candleholder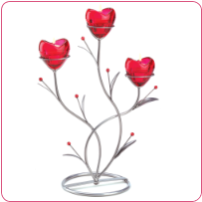 Twining satin-silver stems form a stylish base of botanical beauty. When its ruby glass heart-shaped cups are lit from within, this divine vine-design candleholder is utterly aglow with romance! Weight 1.8 lbs. Metal with glass accents. Tealights not included. 10 " x 5 " x 15 " high.
Heart Windcatcher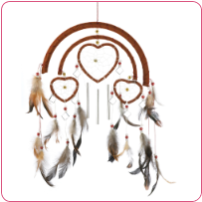 Feathers, beads and faux leather trim add authentic Southwestern styling to this one-of-a-kind windchime! Hang this triple-heart decoration where it's sure to be admired by all. Item weight 0.1 lb. Feather; thin felt covered plastic; metal chimes. 9 " x 15 " high.
I Love You Glass Cube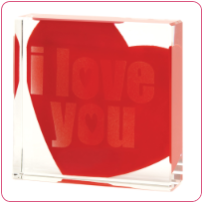 Crystal-clear glass cube simply spells out I Love You, while a red heart beats beneath. A delightful surprise for the object of your affection! Weight 0.4 lb. Glass. 2 1/2™#34; x 2 3/8™#34; x 3/4™#34; high.